Hair Loss Solutions for Women
At Hal's Hair Center, we provide women with a diverse collection of hair loss solutions, including natural hair replacement systems.
Our custom hair replacement systems are individually designed to suit your particular lifestyle and look. Because we use 100% natural and European human hair, your custom hair system will look, act, and feel completely natural.
If you are a woman suffering from alopecia totalis, alopecia universalis, or trichotillomania, now is the time to schedule a consultation with a hair care expert. We also have special services for women who are burn or trauma victims.
Women's Hair Loss Solutions for Thinning Hair and Alopecia
Our appearance is inextricably connected to our self-esteem and confidence level. Thinning hair and female pattern baldness due to androgenic alopecia, is an emotionally and mentally draining experience for women and their loved ones.
One in four women experience hair loss and thinning hair, and millions of other women experience hair loss and thinning hair due medical treatments and certain medications.
Although physical beauty is only one of a woman's attributes, it is one that is particularly important in our society. In both social and professional environments, women are judged based on their physical appearance, particularly around their hairstyle.
At Hal's Hair Center, you will find a wide range of women's hair replacement solutions for all types of hair loss.
Custom Hair Replacement
Our custom hair replacement solutions are specifically designed for your individual needs and type of hair loss. We believe in individualized hair loss solutions because every woman has unique lifestyle needs and hair loss concerns. If you are one of the 40% of women experiencing hair loss, call for a free consultation.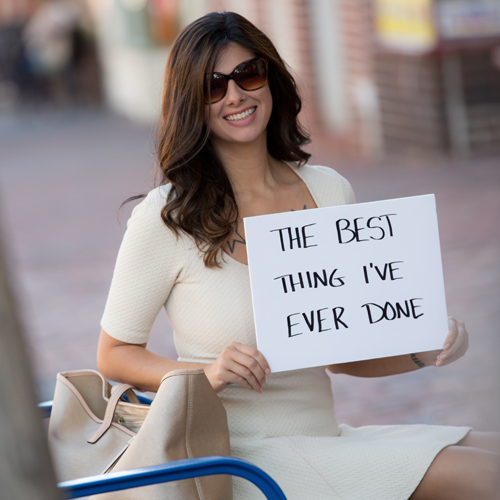 Opting for a custom hair replacement puts you on the road toward increased hair density and length. Once again you will be able to feel the growth of natural hair in a style that is chosen by you for you.
Your custom hair replacement is made from the highest quality human hair. We will create a hairstyle that is appropriate for your hair texture, color, density and age. Instead of adding hair all over your head, we will add it to the exact places that are thinning and/or balding. Your hair replacement will blend seamlessly with your own hair, and your scalp appears normal and visible when your hair is parted. The result is a full head of hair that is as natural as the hair with which you were born.
Alternative Hair Loss Treatments
First line treatment for female hair loss is a DHT blocker. Currently the only FDA approved medication for female pattern baldness, a DHT blocker is likely the first medication that your doctor will prescribe.
Propecia is an inappropriate medication for women due to reports that it is linked to birth defects.
Fashion wigs and traditional hairpieces have transformed both in comfort and style since they were first created. Unfortunately, many companies continue to sell wigs that are cheaply mass produced, hot, uncomfortable, and after a very short period of time look like a wig.
Far too many women have used these low quality wigs and as a result have sworn wigs off entirely. If this description fits you, we encourage you to see our amazing selection of gorgeous wigs and hair replacement systems. The old phrase "Seeing is Believing" has never been more true.